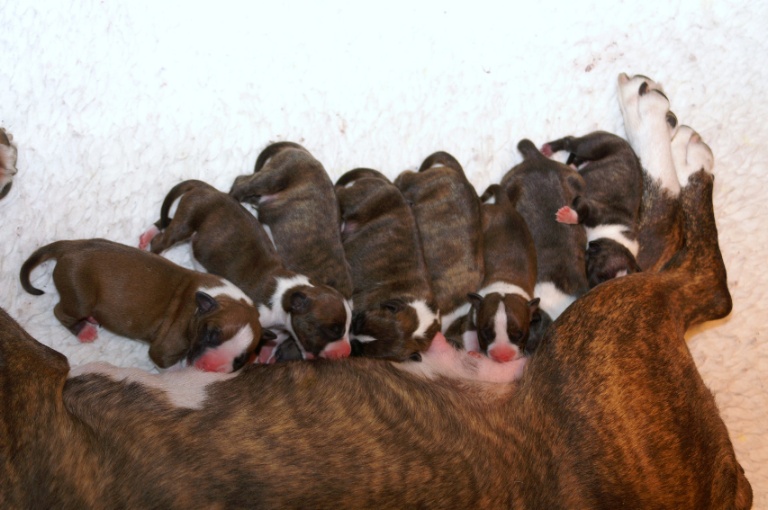 We are pleased to announce the breeding between our bitch Vega (Ch. Great Amstaff Good as Diamond) and Dio (Ch. Dk Staff's I'm so Ruffian). The puppies should be here in the first week of march 2011, we expect very sound puppies, in structure, health and temperament.


Dio became Danish Champion at an young age of 18 months, he won in 2010 the National Speciality in Belgium and Germany under breeder judges Pam Perdue and Hana Brezniniva, and he is an groupwinner as well!!!
He passed the Danish mental test as also the Dutch Temperamentest.Dio is health tested on his Hips, Elbows, Patella and Cardiac.
He is also Ataxia Clear! More information about him can be found at Dio personal site.

Vega is a finished champion in 7 countries as also a multiple speciality winner, she won at 8 National speciality's in 6 different countries Best of Breed or Best Opposite Sex!!! More information can be found at Vega's personal site.
She has an amazingly sound temperament and a great personality and "happy go-lucky" attitude that makes her a true joy to be around.
Vega is also fully health tested. She has a HD-B hip reading, is OFA Cardiac Clear (by a cardiologist, through an Echocardiogram), her elbows are normal and she is an Ataxia Clear! She also passed the Dutch Temperament Test successfully.
We are excited about the product of this combination and expect puppies that will do very well as show and working dogs and most importantly, as loving companions.