29 August 2009
---
International Dogshow Rotterdam, the Netherlands.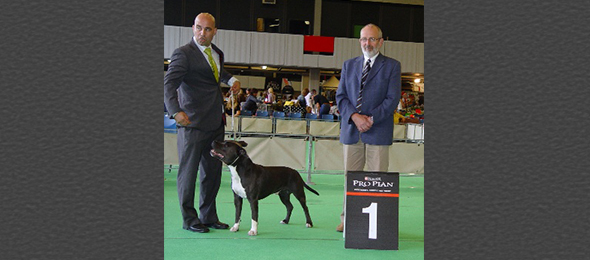 87 amstaffs entered under judge Mr. G. v.d Bosch from Belgium.
∫ Ch. Great Am-Staff's Good as Diamond won 2e place championclass.
∫ Carmichael's Chippendale won 1e place youthclass and J-CAC.
∫ Carmichael's Shut Up and Kiss Me won 1e place open class, CAC / CACIB and finally Best of Breed!
"Stitch" won his third J-CAC and finished his Dutch Youth title at an age of 13 months!!!
"Villain" finished his Dutch title at an age of 27 months and 2 weeks!! (the Dutch title can not be finished before 27 months).
This was our 9th Best of Breed out 11 shows in Holland, this time at the second biggest dogshow from Holland!
These three dogs are currently the number 1 & 3 & 5 dog from the Netherlands!
Off course we wish to congratulate co-owners Frank Diepeveen & Rene Rugl with this result as well!