21 March 2005
---
January & February shows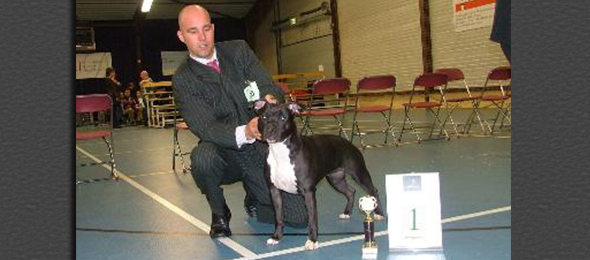 In January and February we did show our Dazzle in puppy class, she became 2nd "very promising " out 5 puppybitches at the International dogshow in Eindhoven (Netherlands), judged by Mr. M. le Cussan( Australia). At the international dog show in Hoogstraaten (Belgium), she went to 3th "very promising" out 4 puppybitches, judged by Mr Igor Selimovic (Croatie).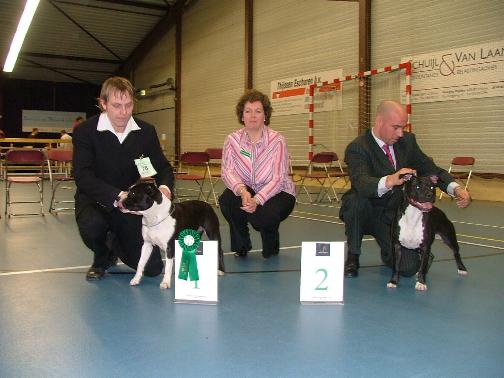 The Belgium amstaff club organized a youthdogshow for dogs till 2 years, judged by Mrs. Ostenk-Schenk (NL), this was a very disappointing show, Dazzle didn't get a placement and got only a " promising"", in her report was written that her head (muzzle) was not long enough....................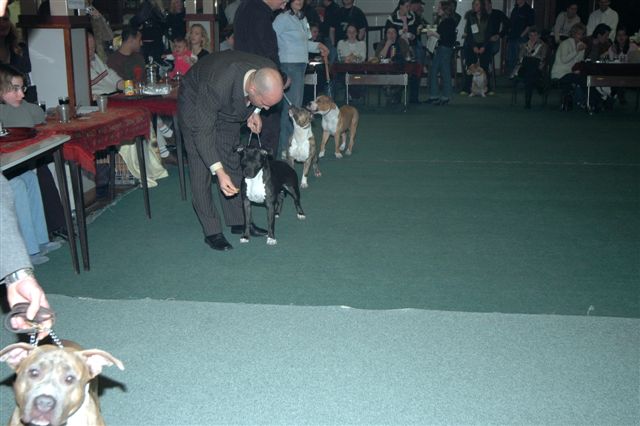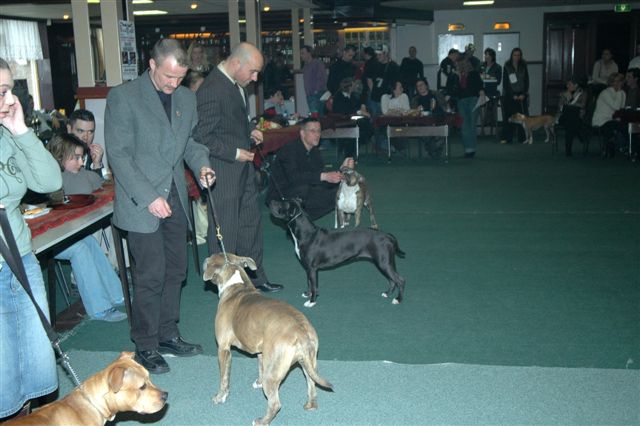 The Dutch amstaff club organized last week on Sunday 13 march their youthdogshow, judged by Mr. Roosenboom (Belgium), this was the first show in youthclass (9-18 months), Dazzle took 4e " excellent" out 22 youthbitches, she was the youngest one in this class!!!!
Yesterday, Sunday 20 march we went to the terrier show in Wijchen (NL), there were 12 youthbitches entered, Dazzle won her class and went to Reserve Champion Bitch, judged by Mrs. Kersemeijer (NL). This was a nice win on this young age and got her first points for the Dutch Championship. Best bitch and BOB was won by Miss Diva from the Southern Stables bred and owned by Jeroen Stallen, this is a granddaughter of Diego
The two pictures at the top are from the terriershow and the two pictures at the bottom are from the youthdogshow.
---